Filters for 2009 Chevrolet Silverado 1500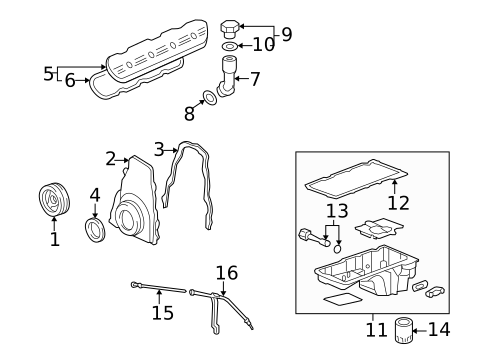 No.
Part # / Description
/ Price
Price
Air Cleaner
Air Cleaner Assembly
4.8, 5.3, 6.0 & 6.2L. All. 4.3L. 5.3 & 6.0L. Filters the air coming through the air intake Helps provide a clean air fuel mixture for combustion This GM Genuine Part is designed, engineered, and tested to rigorous standards and is backed by General Motors
Air Filter
Element
All models. Without diesel. With high capacity cleaner. Yukon XL, Suburban. 5.3l. Avalanche, Escalade EXT. Exc.High Capacity. Tahoe, Yukon, Escalade. Silverado, sierra hybrid. Yukon XL, Suburban. 6.2l. , without high capacity.
Discontinued
Discontinued
Air Filter
Element
All models. 6.0L. Without diesel. Sierra, silverado. Avalanche, Escalade EXT. Tahoe, Yukon, Escalade. Escalade ESV. Suburban. Yukon XL. , with high capacity. Helps trap airborne particles before they enter the engine Excellent filter capacity and efficiency Allows airflow restriction to the engine for performance Equipped with tight seals to keep unfiltered air from entering the combustion chamber This GM Genuine part is designed, engineered and tested to rigorous standards, and are backed by General Motors
Mass Airflow Sensor
Air Mass Sensor
Measures the amount of air entering the engine so the ECM can determine the amount of fuel to inject\
This GM Genuine Part is designed, engineered, and tested to rigorous standards and is backed by General Motors
Air Cleaner Outlet Duct
Rear Duct
4.8, 5.3, 6.0 & 6.2L, 4.8, 5.3 & 6.2L. 1/2 ton. Helps guide airflow to your vehicle's air filter This GM Genuine Part is designed, engineered, and tested to rigorous standards and is backed by General Motors
Air Cleaner Adapter Bracket
Mount Bracket
4.8, 5.3, 6.0 & 6.2L. 6.6L diesel. 6.0L. 4.3L. 2010-13. Bracket. 2009. This GM Genuine Part is designed, engineered, and tested to rigorous standards and is backed by General Motors
Air Cleaner Support
Support
8.1L gas. 6.6L turbo diesel, 2001-05. Support. 6.6L turbo diesel, 2006-07. 4.8, 5.3 & 6.0L gas. 4.3L gas. 4.8, 5.3, 6.0 & 6.2L. Helps align and secure your vehicle's air cleaner This GM Genuine Part is designed, engineered, and tested to rigorous standards and is backed by General Motors
Air Cleaner Support
Air Cleaner Bracket
Support. 2010-13. 2009. Helps align and secure your vehicle's air cleaner This GM Genuine Part is designed, engineered, and tested to rigorous standards and is backed by General Motors
Discontinued
Discontinued